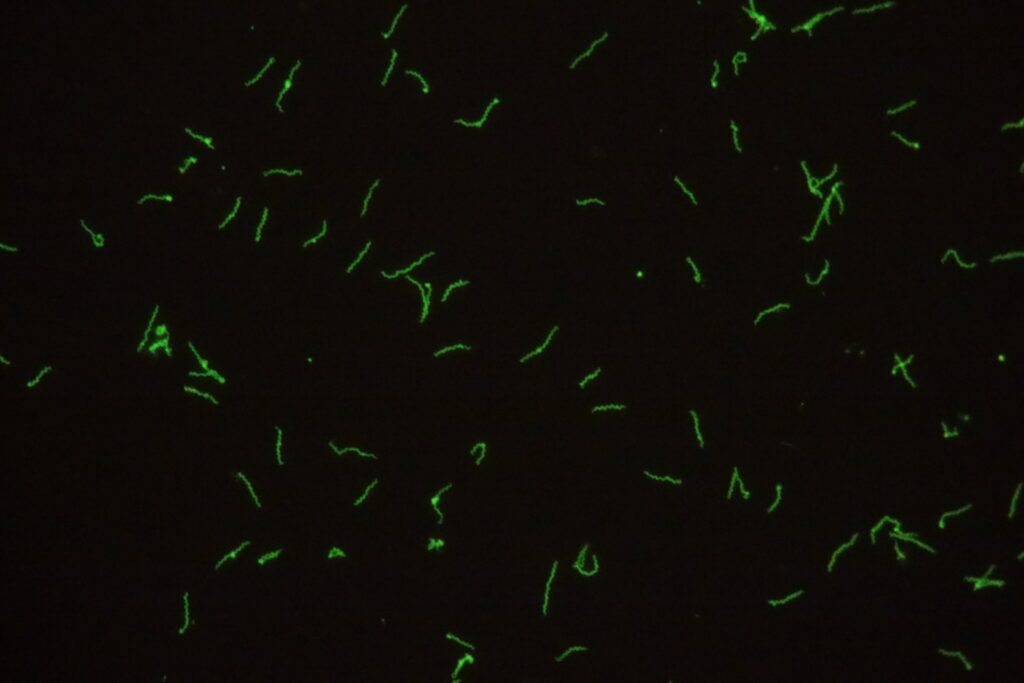 Der Erreger der Syphilis (auch Lues genannt) ist ein gramnegatives Bakterium, die Spirochäte Treponema pallidum (subspecies pallidum). Der Mensch stellt das einzige Reservoir des Erregers dar. Die Syphilis ist eine Systemerkrankung und verläuft in verschiedenen Stadien. Sie wird in eine Früh- (primäre, sekundäre, frühlatente) und eine Spätform (spätlatente, gummatöse, kardiovaskuläre, meningovaskuläre und neuroparenchymatöse Syphilis) unterteilt. Die Zahl der gemeldeten Syphilisfälle bei Erwachsenen ist von 2010 bis 2019 stetig angestiegen, unterbrochen von nur einem minimalen Rückgang der Meldungen 2018. Zuletzt wurden im Jahr 2019 7889 Fälle anonym and das Robert Koch Institut (RKI) gemeldet. Die Meldezahlen für 2020 liegen aktuell noch nicht vor.
Im Gegenzug liegt die Zahl der bei Neugeborenen bzw. Kindern diagnostizierten Fälle von konnataler Syphilis, seit Einführung des Infektionsschutzgesetzes 2001, bei ein bis 6 Fällen/Jahr (RKI, Infektionsepidemiologisches Jahrbuch für 2019). Das klinische Bild einer Syphilis unterscheidet sich bei Schwangeren nicht von dem bei nicht schwangeren Frauen.
Transmissionsrisiko in der Schwangerschaft
Eine diaplazentare Übertragung kann zu jedem Zeitpunkt der Gravidität erfolgen, gehäuft tritt sie nach der 16./18. SSW auf. Die Infektion des Feten kann in jedem Stadium, auch in der späten Latenz, der nicht oder ungenügend behandelten Mutter, erfolgen. Bei unbehandelter Syphilis wurden nachfolgende Übertragungsraten beschrieben: Primäre Syphilis 29 %, sekundäre Syphilis 59 %, frühlatente Syphilis 50 % und spätes Latenzstadium 13 %. Ohne Therapie bzw. bei unzureichender Therapie besteht ein erhöhtes Risiko für Spontanaborte, Totgeburten, Frühgeburtlichkeit und Hydrops fetalis sowie erhöhte neonatale Sterblichkeit in Abhängigkeit vom mütterlichen Erkrankungsstadium. Ebenso ist eine Infektion des Kindes bei der Passage der Geburtswege möglich.
Wann sollte die Diagnostik in der Schwangerschaft erfolgen?
Im Rahmen der Mutterschaftsvorsorge (MuVo) sollte jede Schwangere möglichst früh serologisch auf Syphilis gescreent werden. Die sog. Lues-Suchreaktion (LSR) kann z.B. mit dem Treponema-pallidum-Partikelagglutinationstest (TPPA) oder alternativ einem Immunoassay erfolgen.
Bei Schwangeren mit Risikoanamnese (Risikokontakt, Prostitution, Drogenmissbrauch, Einwanderung aus Gebieten mit hoher Inzidenz etc.) sollte diese LSR zu Beginn des 3. Trimenon zur Vermeidung der kongenitalen Syphilis wiederholt werden.
Diagnostik bei positiver LSR
Bei positiver LSR müssen im Anschluss ein Bestätigungstest und ggf. eine erweiterte Diagnostik durchgeführt werden, um eine behandlungsbedürftige Syphilis auszuschließen bzw. zu bestätigen. Diese sind spezifische IgG-/IgM-Ak-Teste (z.B. Fluoreszenz-Treponema-pallidum-Antikörper-Absorption = FTA-Abs.) und ein nicht treponemenspezifischer Test zum Nachweis von Cardiolipin-Ak (z.B. Veneral-Disease-Research-Laboratory-Test = VDRL-Test). Wobei auch ein negativer IgM-Befund eine Therapiebedürftigkeit nicht ausschließt.
Zudem ist die Erhebung der Anamnese ein wichtiger Bestandteil für die Beurteilung der serologischen Befunde im Hinblick auf die Notwendigkeit einer Therapie. Bei Erstdiagnose in der Schwangerschaft, sollte auch ein HIV-Test durchgeführt werden, sofern noch nicht erfolgt. Ebenso werden Ultraschallkontrollen, DEGUM-Stufe II/III, in regelmäßigen Abständen ab SSW 18+0 bis 21+6 empfohlen.
Untersuchungsmaterial: Vollblut 2-3 ml
Diagnostik beim Feten
Bei auffälligem Ultraschall wie z.B. Hepatomegalie, Aszites, Hydrops fetalis sollte eine invasive Pränatale Diagnostik (DNA-Nachweis mittels PCR im Fruchtwasser und Fetalblut, IgM-Ak und VDRL-Bestimmung im Fetalblut) durchgeführt werden.
Untersuchungsmaterial: Fruchtwasser 2-5 ml, fetales EDTA-Blut 500 µl – 1 ml
Therapie in der Schwangerschaft
Einsatz von Benzathin Benzylpenicillin gilt weiterhin als Standardtherapie. Die Dosierung ist abhängig vom Infektionsstadium (siehe aktuelle AWMF-S2k-Leitlinie: Diagnostik und Therapie der Syphilis).
Bei Penicillinallergie bzw. Verdacht auf Penicillinallergie, muss das weitere Vorgehen mit dem Hautarzt/ der Hautärztin abgesprochen werden.
Welche Untersuchungen sollten beim Neugeborenen/Säugling erfolgen?
Bei Geburt:
Bei positiver Syphilis-Serologie in der Schwangerschaft wird zur Kontrolle des Schwangerschaftsausgangs die Untersuchung von Nabelschnurblut und mütterlicher Blutprobe empfohlen. Ggf. ist zusätzlich noch eine Liquordiagnostik indiziert (siehe aktuelle Auflage DGPI).
TPPA-Titer
IgM-Ak-Bestimmung, beim Neugeborenen mit 2 unterschiedlichen Testarten
Cardiolipin-Ak-Nachweis
Ggf. T. pallidum-DNA-Nachweis (EDTA-Blut, Liquor)
Untersuchungsmaterial: Nabelschnur-Vollblut und mütterliches Vollblut jeweils 2-3 ml ggf. bei DNA-Nachweis mittels PCR – EDTA-Blut und Liquor jeweils 500 µl
Innerhalb des ersten Lebensjahres:
Regelmäßige serologische Verlaufskontrollen (TPPA, IgM-Ak, Cardiolipin-Ak) bis mütterliche Leihantikörper nicht mehr nachweisbar sind.
Therapie beim Neugeborenen/Säugling
Penicillin G-Gabe i.v.. Genaue Dosierung siehe aktuelle Auflage DGPI.

! Meldepflicht nach IfsG. Nicht namentlich, postnatale und kongenitale Syphilis ans RKI.
–> zur Übersicht: Prä- und perinatale Infektionen
---
Auswahl unserer Publikationen/Beiträge zur Syphilis:
Syphilis Buchkapitel mit eigenem Titel
In: Bialek, Ralf; Berner, Reinhard; Forster, Johannes; Härtel, Christoph; Heininger, Ulrich; Huppertz, Hans-Iko; Liese, Johannes G; Nadal, David; Simon, Arne (Hrsg.): DGPI-Handbuch, S. 764–769, Thieme, Stuttgart, 2018, ISBN: 978-3-13-240790-9.
Syphilis Buchkapitel mit eigenem Titel
In: Friese, K; Mylonas, Ioannis; Schulze, A (Hrsg.): Infektionserkrankungen der Schwangeren und des Neugeborenen, Bd. 3, S. 371–385, Springer-Verlag, Berlin, Heidelberg, 2013, ISBN: 13 978-3-540-78324-4.
Syphilis Buchkapitel mit eigenem Titel
In: Berner, R; Bialek, R; Borte, M; Forster, J; Heininger, U; Liese, J G; Nadal, D; Roos, R; Scholz, H (Hrsg.): DGPI Handbuch, Bd. 6, S. 521–526, Georg Thieme Verlag, Stuttgart, New York, 2013, ISBN: 978-3-13-144716-6.
Konnatale Syphilis - es gibt sie noch! Artikel
In: pädiatrische praxis, Bd. 76, Nr. 3, S. 445–450, 2011.
[Syphilis] Artikel
In: Deutsche Medizinische Wochenschrift, Bd. 132, Nr. 3, S. 77–78, 2007, ISSN: 0012-0472.
[Congenital syphilis despite prenatal screening? An evaluation of 14 cases] Artikel
In: Zeitschrift fur Geburtshilfe und Neonatologie, Bd. 210, Nr. 4, S. 141–146, 2006, ISSN: 0948-2393.
[Syphilis in pregnancy] Artikel
In: Zeitschrift fur Geburtshilfe und Neonatologie, Bd. 206, Nr. 4, S. 131–137, 2002, ISSN: 0948-2393.
Verantwortlich für den Inhalt:
Prof. Dr. med. Martin Enders (0711-6357-120)
Stand 10/2021