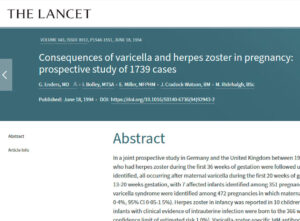 2021
Virucidal efficacy of different formulations for hand and surface disinfection targeting SARS CoV-2 Artikel
The Journal of hospital infection, 112 , S. 27-30, 2021.
Outcome of pregnancies with a very recent primary cytomegalovirus infection in the first trimester treated with hyperimmunoglobulin: an observational study Artikel
Ultrasound in obstetrics & gynecology, 57 , S. 560-567, 2021.
Characteristics and mechanisms to control a COVID-19 outbreak on a leukemia and stem cell transplantation unit Artikel
Cancer medicine, 10 (1), S. 237–246, 2021.
Review of the use of nasal and oral antiseptics during a global pandemic Artikel
Future microbiology, 16 (2), S. 119-130, 2021.
The European tiered approach for virucidal efficacy testing - rationale for rapidly selecting disinfectants against emerging and re-emerging viral diseases Artikel
Euro Surveillance, 26 (3), S. pii=2000708., 2021.
Virucidal gargling and virucidal nasal spray Artikel
GMS Hygiene and Infection Control, 16 (Doc02), 2021.
High reproducibility of the interferon-gamma release assay T-SPOT.TB in serial testing Artikel
European journal of clinical microbiology & infectious diseases, 40 (1), S. 85-93, 2021.
2020
Sulfadiazine plasma concentrations in women with pregnancy-acquired compared to ocular toxoplasmosis under pyrimethamine and sulfadiazine therapy: a case-control study Artikel
European journal of medical research, 25 (59), 2020.
Diagnostik und Therapie der Syphilis : Aktualisierung der S2k-Leitlinie 2020 der Deutsche STI-Gesellschaft (DSTIG) in Kooperation mit folgenden Fachgesellschaften: DAIG, dagnä, DDG, DGA, DGGG, DGHM, DGI, DGN, DGPI, DGU, RKI Artikel
Der Hautarzt, 71 (12), S. 969–999, 2020.
Virucidal activity of three ethanol-based handrubs against murine norovirus in a hand hygiene clinical simulation study Artikel
Future microbiology, 15 , S. 1335-1341, 2020.
Entwicklung eines neuen Bioindikatorsystems zur Prüfung der Hygienewirkung von Geschirrspülverfahren unter besonderer Berücksichtigung von englumigem Spülgut Artikel
Hauswirtschaft und Wissenschaft, 68 , S. 1, 2020.
Timing of Vaccination after Training: Immune Response and Side Effects in Athletes Artikel
Medicine and science in sports and exercise, 52 (7), S. 1603–1609, 2020.
Diagnosis of intrauterine parvovirus B19 infection at birth - Value of DNA detection in neonatal blood and dried blood spots Artikel
Journal of clinical virology : the official publication of the Pan American Society for Clinical Virology, 129 , S. 104482, 2020.
Comment on the significance, application and determination of the large volume plating (LVP) 2. Communication of the DVV/GfV Virus Disinfection Expert Committee on the DVV/RKI Guideline in the version of December 1st, 2014 Artikel
Bundesgesundheitsblatt, Gesundheitsforschung, Gesundheitsschutz, 63 (5), S. 657–659, 2020.
Prävention respiratorischer Virusinfektionen durch viruzide Schleimhautantiseptik bei medizinischem Personal und in der Bevölkerung Artikel
Hygiene + Medizin, 45 (9), S. D118–D124, 2020.
Aufbereitung von Reinigungstextilien in der Krankenhausreinigung Artikel
Hygiene + Medizin, 45 (7/8), S. D80–D89, 2020.
Einsatz geeigneter Desinfektionsmitteln bei gentechnisch veränderten Viren und viralen Vektoren -- Stellungnahme der Kommission für Virusdesinfektion der Deutschen Vereinigung zur Bekämpfung der Viruskrankheiten (DVV) e. V. und der Gesellschaft für Virologie (GfV) e. V Artikel
Epidemiologisches Bulletin, (36), S. 3–14, 2020.
Reinigung von Oberflächen - Eine mikrobiologische Untersuchung und Bewertung der Reinigung in öffentlichen Bereichen Artikel
Hygiene + Medizin, 45 (7-8), S. D102–D106, 2020.
Reiniger mit Zusatz von Mikroorganismen (MARP) Artikel
Hygiene + Medizin, 45 (7/8), S. 98–101, 2020.
Povidone-Iodine Demonstrates Rapid In Vitro Virucidal Activity Against SARS-CoV-2, The Virus Causing COVID-19 Disease Artikel
Infectious diseases and therapy, 9 (3), S. 669–675, 2020.
Acute transverse myelitis after COVID-19 pneumonia Artikel
Journal of neurology, 267 , S. 2196-2197, 2020.
Seasonal Bordetella pertussis pattern in the period from 2008 to 2018 in Germany Artikel
BMC infectious diseases, 20 (1), S. 474, 2020.
Händedesinfektion unter den Bedingungen der SARSCoV- 2-Pandemie Artikel
Epidemiologisches Bulletin, 19 , S. 13-19, 2020.
Low-level positive results in the Liaison CMV IgG II assay may misclassify pregnant woman as immune Artikel
Diagnostic microbiology and infectious disease, S. 115029, 2020.
Guideline for testing chemical disinfectants regarding their virucidal activity within the field of human medicine : as of December 1st, 2014 Prepared by the German Association for the Control of Virus Diseases (DVV) and the Robert Koch Institute (RKI) Artikel
Bundesgesundheitsblatt, Gesundheitsforschung, Gesundheitsschutz, 63 (5), S. 645–655, 2020.