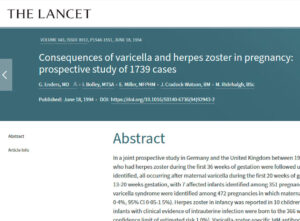 1957
Viruses in search of disease: Part III Artikel
In: Annals of the New York Academy of Sciences, Bd. 67, 8, S. 355–362, 1957, ISSN: 0077-8923.
Studies with measles virus. I. Isolation of virus and immunologic studies in persons who have had the natural disease Artikel
In: Journal of immunology (Baltimore, Md. : 1950), Bd. 78, S. 341–355, 1957, ISSN: 0022-1767.
1956
Studies on measles in humans and in monkeys: report of isolation from cynomolgus monkeys of an agent immunologically related to human measles virus Artikel
In: Federation proceedings, Bd. 15, S. 610, 1956, ISSN: 0014-9446.
1954
Gewebewachstum und Vermehrung von Coxsackie A2-Virus Artikel
In: Zeitschrift für Naturforschung, Bd. 9b, S. 38–41, 1954.